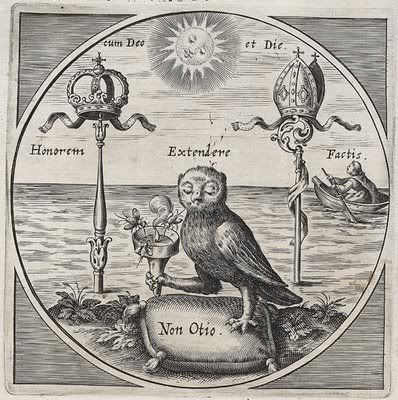 The "Owl" as a Symbol of the Occult has varied and nuanced layers of deconstructions. Aside from the mythological connections of the Owl to Athena and Ishtar, "goddesses" that directly link back to Isis, the Owl also contains observable natural properties that signify an ability to see in the dark (read Setianist ignorant world). Of course, we cannot exclude a Qaballistic construction to the very word "OWL".
These podcasts provide a uniquely Isisian Code view of the Owl as a Symbol of the Occult and give a glimpse into the way in which Hermetic Qaballa is used in the construction of words as Occult constructs.
The Owl as a Symbol of the Occult - Podcast#8, Segment 1 - Monologue
The Owl as a Symbol of the Occult - Podcast #8, Segment 2 - recorded November 29, 2009
The Owl as a Symbol of the Occult - The Lost Episode (original intended Segment 2) - recorded sometime in early or mid October, 2009
Powered by Podbean.com
There are technically "two" segment "2's" - the first recorded around the middle of October and then lost and never uploaded.
Recently found while recording a second "segment 2" of Podcast #8, you can now listen, if you are so inclined, to over 30 minutes of "the Fetch" as he winds his way through various Qaballistic and mythological representations of the Owl as a Symbol of the Occult across 3 segments recorded at different times.
Segment 2 (the second version and official version - as opposed to the Lost Episode) provides a pretty good verbal insight into the Owl as a Qaballistic construction and provides conjectural insight as to just why the Owl appears on the US dollar bill.
Hope you enjoy these shows. They will also be found as companion links in the most widely read article at The Illuminatus Observor, "The Owl as a Symbol of the Occult".
For a complete list of available shows see the complete list below.

As always - thanks for the continued support and to your linking of the blog in forums and websites all across the World Wide Web. Your efforts greatly help spread the word and contribute to the growth of the Illuminatus Observor as simply one of the best Hermetic Qaballa blogs in all of blogdom.